Nautic shop Marina Hramina
Do not leave anything to chance and with full confidence ask for help in the nautic shop Marina Hramina.
Everything for your boat
The nautical shop at Marina Hramina opened in 2011. The single aim was to offer its customers everything for their vessels in one place. The store is located at the entrance to Marina Hramina with an area of 50 m2.
In the store you can find a wide range of nautical equipment with more than 2,700 different items. Within the offer the nautical equipment shop can provide a large assortment of spare parts for the marine engines: Mercury, Volvo, Yanmar and many others.
If the item you require is not in stock, we also offer catalogue sales with a delivery time of just one day. We point out various other items of nautical equipment to enhance your boat and your sailing experience, e,g, Liros ropes, Spinlock deck equipment, Jobe equipment for water sports, inflatables, Gloryfy unbreakable sunglasses for extreme sports, Garmin products and much more.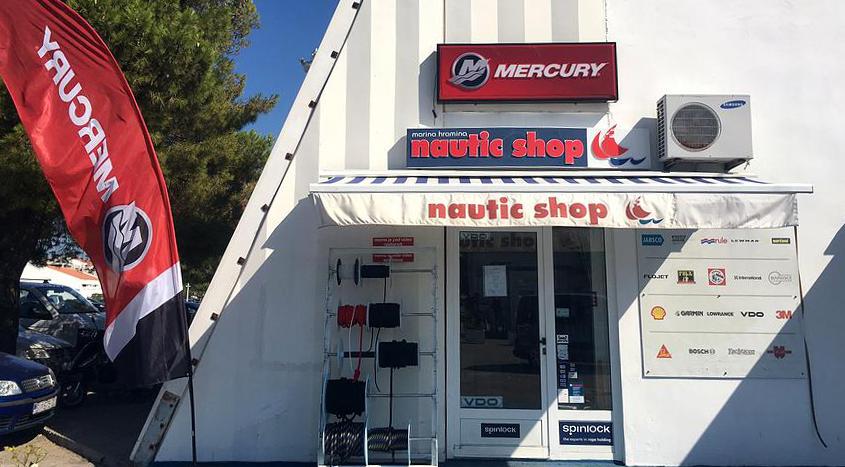 Choosing a reliable partner such as Hempel, with more than 100 years of experience, helps us achieve the desired appearance of the vessel with minimal impact on the marine environment. We offer you a complete range of protective coatings for all types of yachts, from durable coatings to antifouling with patented technology that, in addition to protection, also ensures top performance.
Since 1939, Mercury has been building quality, reliability and innovation in its products. The result is a Mercury engine that exceeds all expectations in terms of reliability, performance and fuel consumption. This tradition continues today. Mercury offers a full line of outboard engines that are easily portable, economical, and reliable. The Mercury outboard engine combines superior engine performance with economy and environmental awareness.
The German rope factory LIROS is world famous for the production of ropes for sports sailboats. The LIROS 2000 regatta, one of Dyneema's best-selling ropes, is now available in a variety of colors just 3 mm thick.
Spinlock is a renowned expert in the field of rope stoppers, with over 30 years of experience in designing and manufacturing rope stoppers on sailboats, from small classes to superyachts. Spinlock stoppers hold ropes up to 12,000 kg.
Star Brite cosmetics for ships are designed to effectively stain dirt, stains, oil, fiberglass salt, painted surfaces, windows, plastic, vinyl, canvas and glossy materials. All products are environmentally friendly, biodegradable formulas concentrated for cleaning in harsh conditions. Wash & Waxes leave behind a protective polymer coating that repels future dirt and stains, while leaving a lasting, glossy shine.
Since 1982, Yachticon has been leading the market in maintenance and care products for yachts and caravans. The company offers a wide-variety of specialized cleaners for yachts, motorboats and inflatable vessels. Their range of products also includes: cleaning agents, fabric cleaners, interior cleaners, waterproofing agents, teak cleaners, oils, inflatable dinghy cleaners, sea water shampoo, dish soap and much more...
Bostik is the world's leading adhesive specialist For more than a century, it has been developing innovative sealing and gluing solutions that are more intelligent and adaptable to the conditions that shape everyday life. Bostik innovates, applying the latest technological advances in the development of "intelligent" adhesives.
Jabsco is a leading nautical brand best known for its toilet systems. Among the products you can find toilet systems, water systems, various pumps, toilet boat pumps, bronze pumps, bilge pumps, manual and automatic pumps, washing pumps, par-max pumps, motor fans, reflectors, etc.
The world's leading manufacturer of navigation systems, we are committed to creating top quality products for the automotive, marine and fitness products markets, as well as outdoor products, which are an integral part of our customers' lives.
WhisperPower was founded in 2007 for the manufacture and worldwide sale of diesel generators and related items, which had been sold until this point under the brand name Mastervolt. Since then, the company has quickly and successfully grown and developed especially in terms of innovation and quality.